Jackpot 3x3
Jackpot 3x3
A unique, innovative concept for a slot game, Jackpot 3x3 really is something out of the ordinary. You may not have experienced anything like this before, but NYX have delivered a brilliant product, and there's some serious payouts just waiting to be claimed. With nine slots spinning at any given time, what are you waiting for?
Jackpot 3x3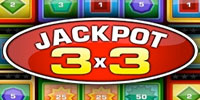 Keep your eyes on all the reels!
Provider: NYX
Game Type: Casual Game
Payout: 95% - 97.55%
Available on Mobile: ✔︎
Available on Desktop: ✔︎
UK Compliant: ✔︎
Why You Should Play Jackpot 3x3
Not the normal layout for a slot game, Jackpot 3x3 offers something very different, and the game's innovative design makes it very fun and easy to pick up and play. With three lines of three reels, there's no Wild, Scatter or Bonus symbols, but that's the beauty of it.
The interface contains reels full of bright colours and all symbols are different shapes – from squares and hexagons to octagons and stars – and each symbol has the same number. Suitable for all size budgets, all you have to do is match three identical numbers on one of the nine reels to win a prize. That's it, and it's brilliant. You'll struggle find another game around with a simple yet effective concept such as this, so give it a go because you may just be pleasantly surprised.
How to Play
Choose your bet size using the plus and minus arrows before tapping the Spin button to see if you have landed a winning combination. All nine reels spin at the same time and you must match three identical numbers on one or more of the reels to win a prize, with the number shown on a winning reel acting as the multiplier.