Diamond Deal
Diamond Deal
A slick and simple game which creates a thrilling sense of anticipation, Diamond Deals is different to most other casino offerings and is a visual treat. Can you find the concealed gems and win yourself a shiny fortune, or will you strike out?
Diamond Deal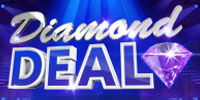 Uncover the hidden treasures in this sparkling game
Provider: Games Global
Game Type: Casual Game
Payout: 92.07%
Available on Mobile: ✔︎
Available on Desktop: ✔︎
UK Compliant: ✔︎
Why You Should Play Diamond Deals
A casual casino game rather than a slot, Diamond Deals is refreshingly different to most online offerings and very simple to play. You really feel like you are taking part in a glitzy TV gameshow when you open up Diamond Deals and see the playing board, on a sturdy platform, surrounded by bright purple lights, with spiral staircases on both sides. The game itself is a joy to play as there is an element of tension as you search for the diamonds. As you uncover more diamonds, strategy comes into play as you have to decide whether to cash out or keep going, and the dramatic sound effects add to the atmosphere.
How to Play
You will get to select the size of your bet as soon as you open up the game, ranging from £1 to £10. There is a bigger jackpot on offer if you are prepared to wager a higher amount. Press Start to get going, and you will see a 10x5 grid. Ten of the squares have diamonds hidden behind them, and your job is to try and find them to bag a prize. Simply select a box and you will either uncover a diamond or a blank space.
If you don't land a diamond, you will lose a life, and you can only afford to lose four lives before the game is over. The prize pot also reduces with each unsuccessful attempt. If you find a diamond, you will have the chance to cash out at any time. The prize pot will increase when you find a diamond, and the number of lives resets to four. You win the jackpot if you manage to find nine diamonds in a row.